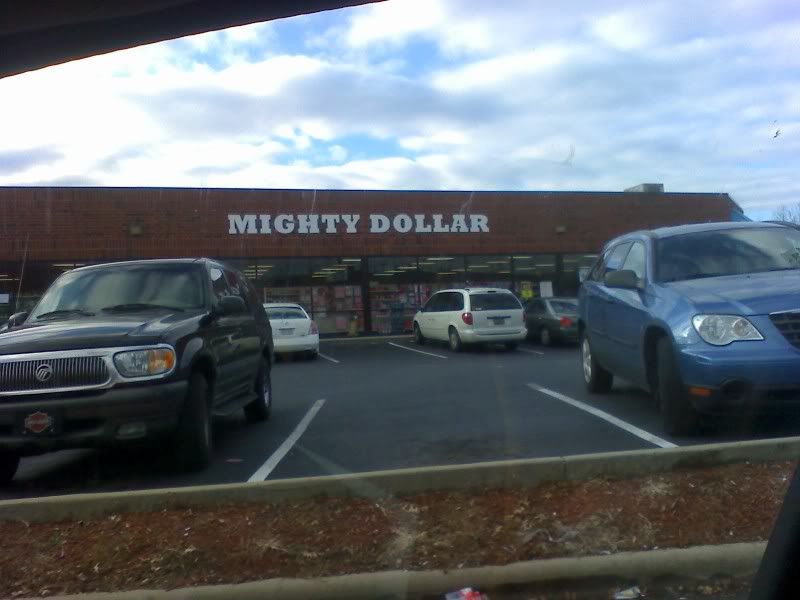 So, as I drove to one of the 4 (yes, 4) Dollar Trees that are within a 5 mile radius of my house I noticed
The Mighty Dollar
. It seems the girls have gone there several times with my ex-wife and speak wonders of the new store. I was skeptical to visit as at the time I did not know anything about this company. My initial thought was that the Mighty Dollar was a mom & pop dollar store operation which in my experience usually feel like a family dropped a bunch of useless trinkets to be sold. Today I learned they're a regional company with an aggressive campaign to take the crown from the Dollar Tree.
They claim that they differentiate themselves by offering name brand products for only $1. They also claim they've sold merchandise with an original $100 price tag for $1. When I visited the store I saw nothing of the kind. It seemed like any other local dollar tree effort with a hell of a lot less variety than the Dollar Tree. The merchandise in most aisles is of the same quality as the Dollar Tree but quantities and variety are noticeably limited.
I seriously doubt they will create even the slightest dent on the Dollar Tree's throne but I will keep a close eye on their merchandise for comparison.